Cask Marque
Cask Marque Accredited
The Black Bull is fully accreditted by Cask Marque for its ales.  To gain the Cask Marque all the ales are independently assessed for colour, temperature, clarity and taste.  The testers arrive unannounced to test the beers and then come back at some time within the month to test again.  Our Cask Marque certificate is valid until February 2018, when our ales will be tested again.
Come join us for a great pint!
Currently avalaible –  Timothy Taylors Landlord, Hobgoblin and Doom Bar.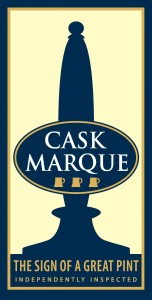 Why not drop by?
Mon 4.30pm - 9pm
Tue / Wed / Thurs
11.30am - 11.30pm
Fri 11am - 1am
Sat 11am - 1am
Sun 12pm - 9pm
Entertainment
Check out our Menus!